Car-sharing: locally emission-free in Berlin

Car-sharing: locally emission-free in Berlin

The car-sharing service "We Share" has been enriching the German capital's streets since this year – with fully electric cars. This is what every Berliner needs to know.
How 2000

electric

shared cars are bringing modern driving

enjoyment

to Berlin

Why

electric

cars are also ideal for days out

How to sign up and how to use

electric

cars for spontaneous

journeys

through the city centre

How you can save

with

money

with

car-sharing
Find a car quickly on the app, book it, drive from A to B and park – demand for car-sharing is surging in Germany. At the moment, over two million customers use the service, most of whom live in large cities. There are a total of 165 providers on the market, though none of them offer local emissions-free driving. Just ten percent of the total of 18,000 vehicles are electric or plug-in hybrids. Volkswagen is now gearing up to change this with an electric-only fleet: the car-sharing provider We Share launched in Berlin in the second quarter of 2019. The initial phase will see 1,500 e-Golfs (power consumption, kWh/100 km, combined 13.8 – 12.9; CO2 emissions combined, g/km: 0; efficiency class A+1) hit the streets. Later on, customers will also be able to book one of the 500 compact city cars, the e-up! (power consumption in kWh/100 km: 12,9-12,7 (combined); CO2 emissions (combined) in g/km: 0; efficiency class: A+1). From 2020, the fleet will gradually switch to the new range of ID. family models. Nowhere else in the world has a similar number of electric cars been available through car-sharing companies.
Micro-mobility as an

addition

to car-sharing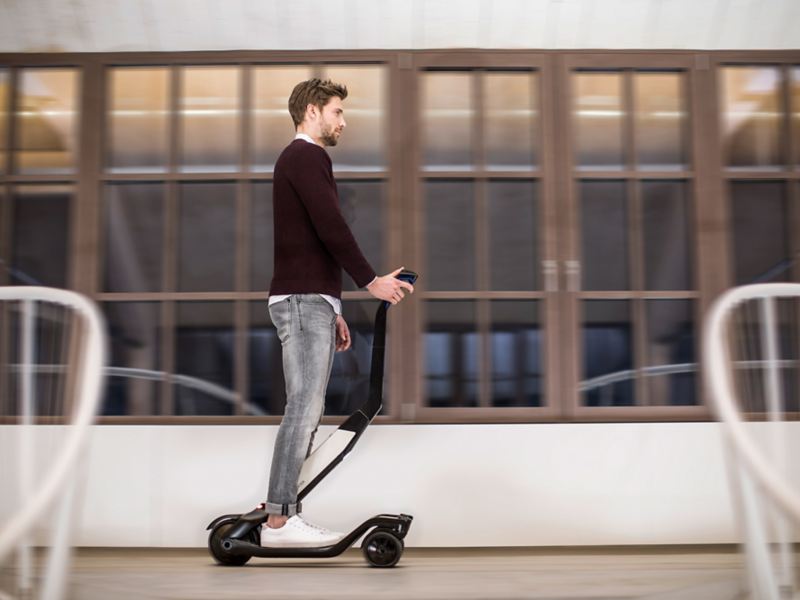 With its flexible combination of different services, We Share would like to meet the wide range of needs found in cities. For instance, it is also planning to enhance car-sharing with lightweight electric models from the field of micro-mobility. In 2018, Volkswagen showcased the ID.Cityskater and the prototype ID.Streetmate, pilot versions of a two- and three-wheeled vehicle as an addition to the car. This type of lightweight vehicle provides a quicker and more convenient way to complete the "last mile", in other words journeys that would otherwise have to be made on foot. However, these plans are currently on hold because this type of small electric vehicle are not permitted in Germany at this time.
To work, to practice or on holiday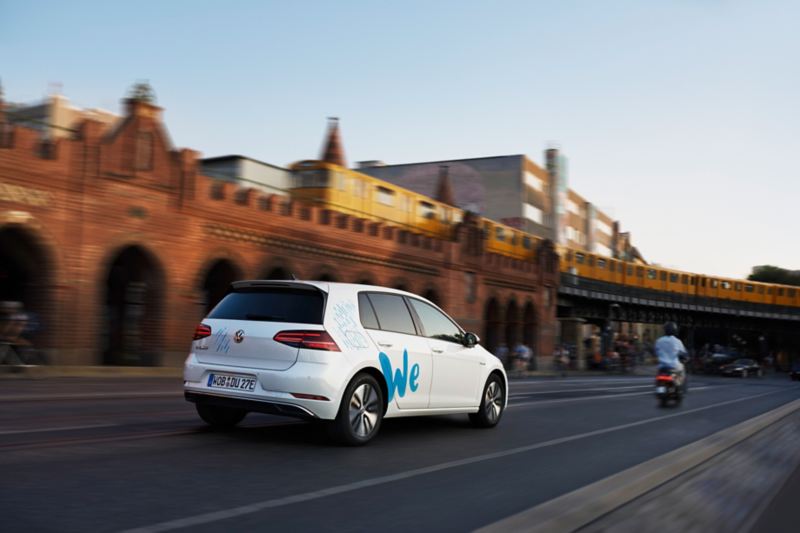 The e-Golf and e-up! guarantee sustainable driving fun in urban environments. The powerful, almost silent electric motor delivers impressive acceleration while also allowing for local emissions-free driving at the same time. However, use of these cars is not restricted to the city. With the electric cars from We Share, you can also leave Berlin behind you for the day without any worries. Thanks to enhanced technology and more charging stations, electric mobility does not run out of power so easily any more. The combined range of the e-up! is 160 kilometres while the e-Golf can even reach 231 kilometres1.
We Share: maximum

flexibility

, minimum effort

Using it is easy: once they have registered on We Share, customers can simply search for an electric car on the app in real time and then book it. The vehicles are available across the entire city centre. Unlike other providers, the car does not have to be collected from a specific spot and then returned there again, it can be collected and parked anywhere in the business area. Customers pay by the minute at favourable rates. There are no fixed monthly costs for insurance, maintenance or electricity with electric car sharing, as these are all included in the minute rate.
Saving money

with

car-sharing

E-car-sharing pays off twice for users. On the one hand, there is always a car available when you need one. On the other hand, you only have to deal with costs if you actually use the car. And e-car-sharers don't have to worry about parking space rental either – even if there is a private car park nearby.