A model region for

electric

mobility: Hamburg steps things up

A model region for

electric

mobility: Hamburg steps things up

Cities around the world are growing so quickly that their infrastructure can barely keep up. In order to avoid a transport collapse, cities and businesses in eight model German regions are working on behalf of the German government to develop pioneering mobility solutions – including Hamburg.
Why

electric

mobility is a top priority in Germany

Why Hamburg is regarded as a model region

In which areas Hamburg leads the rest of Germany

Which pioneering project is planned for the

future
Electric mobility: Heading to the

future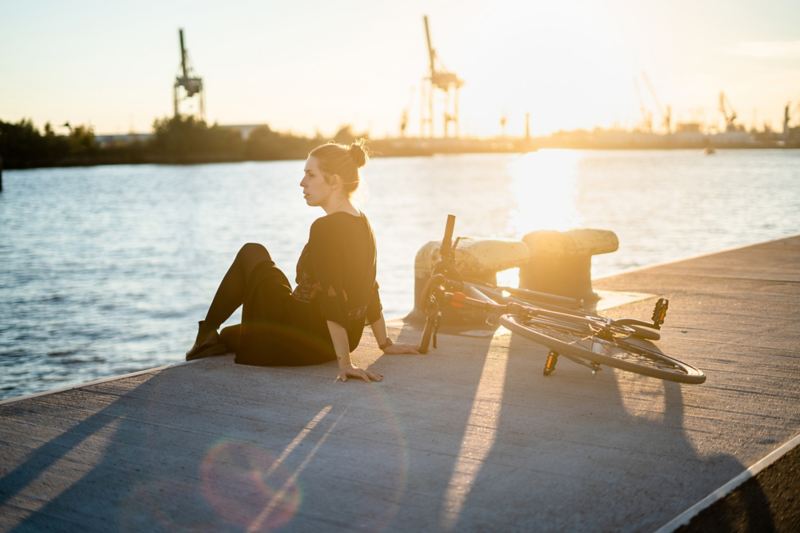 With zero local emissions, the electric car is an exceptionally clean vehicle that impresses in one area in particular: fewer carbon emissions means less strain on the environment, obviously. In the field of electric cars, intelligent companies are also developing other smart ideas with the aim of avoiding a transport collapse.  

One such example is: leaving your car behind every now and then, hiring a bike to cycle to the overland rail service and then hopping into an electric hire car. In Hamburg, the app "switchh" allows you to travel in precisely this manner, travelling seamlessly, comfortably and affordably from A to B with just one payment and access to all services. So, you could say: electric mobility is also giving rise to a new, environmentally aware culture of mobility.
Promotion: German government gives an early boost

A large number of businesses and start-up services are currently working on products related to electric mobility. If nothing else, the field is an important economic factor. So, it's not surprising that the German government is also putting some energy into the goal of establishing Germany as a leading market and provider for electric mobility – and, to do this, it is releasing its fair share of funds: the initiative is called "Model regions for electric mobility" and aims to put Germany on the map for electric mobility.

The German Ministry of Transport and Digital Development is dividing its funds between eight German metropolitan regions, Hamburg being one of them. The main aims of the promotional programme is to establish more charging stations and encourage more electric cars in the city on the Elbe. The power required to do this is generated using renewable energy. Hamburg will also be hosting the World Congress on Intelligent Transport Systems (ITS World Congress) in 2021 and the goal is to have everything ready by then. Volkswagen has been one of the Hanseatic city's strategic partners since as far back as August 2016 and provided support during the application process. Joint projects have been designed to make urban traffic more environmentally friendly, more efficient and safer.

This also includes buses in the public transport network: the Volkswagen subsidiary MAN has been working with two regional transport companies for a long time to develop electric buses, Hamburger Hochbahn and Verkehrsbetriebe Hamburg-Holstein GmbH (VHH). And now Volkswagen's subsidiary MOIA is also launching in Hamburg, too. The ride-sharing provider is aiming to employ Europe's largest fleet of electric buses in the model region of Hamburg.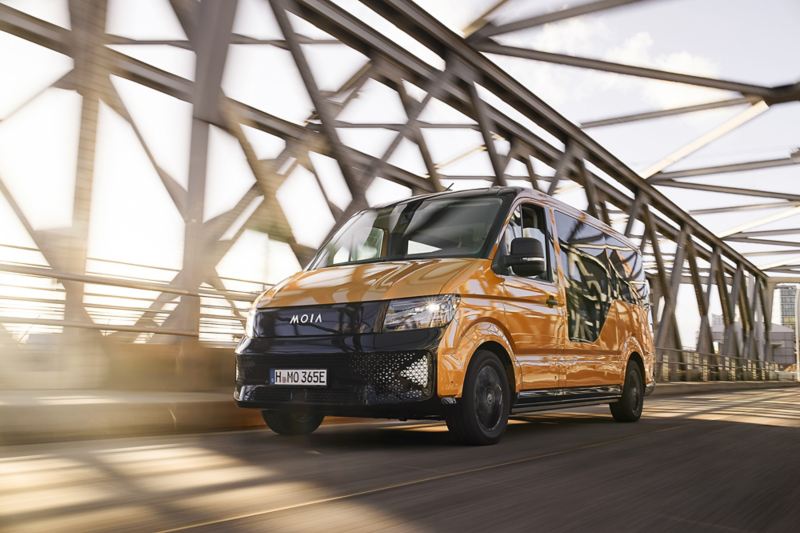 For the "Model Regions" project, the city of Hamburg has given rise to a range of promotional programme – and with pretty decent success: one such project is the master plan for publicly accessible charging infrastructure. Hamburg is now a leading city in Germany, not just when it comes to the number of electric cars: in January 2019, Hamburg had over 800 public charging points with certified green power, followed by Berlin with 743 and Munich with just 392 stations.

More

electric

cars, fewer emissions, greener

Parking spaces for so-called pool vehicles – in other words, vehicles that several neighbours can share – parking spaces for the car-sharing fleet and for hire bikes, as well as private charging stations in underground car parks underneath apartment blocks – there is no stopping the new mobility concepts in residential areas either. To make sure these requirements can be taken into account, particularly at the start of new building projects, the city brought together mobility providers and the property industry as part of the e-Neighbourhood Hamburg – with the aim of ensuring urban development based on attractive residential areas with smart mobility concepts, more green spaces and fewer emissions.
Promotion for corporate fleets in the model region

The project is also aiming to convince the business world with the benefits of electric mobility: in an effort to attract environmentally aware business owners, Hamburg has promoted a number of initiatives (e-powered fleets, e-Drive) to make the most of potential uses of electric cars by businesses in the model region. And to demonstrate that the range of the electric cars provided for businesses is more than enough to cover the daily average mileage requirements for a number of industries. The city itself is already setting a good example with its fleet of vehicles: the city council is due to switch its fleet to 50 percent electric-powered vehicles by 2020.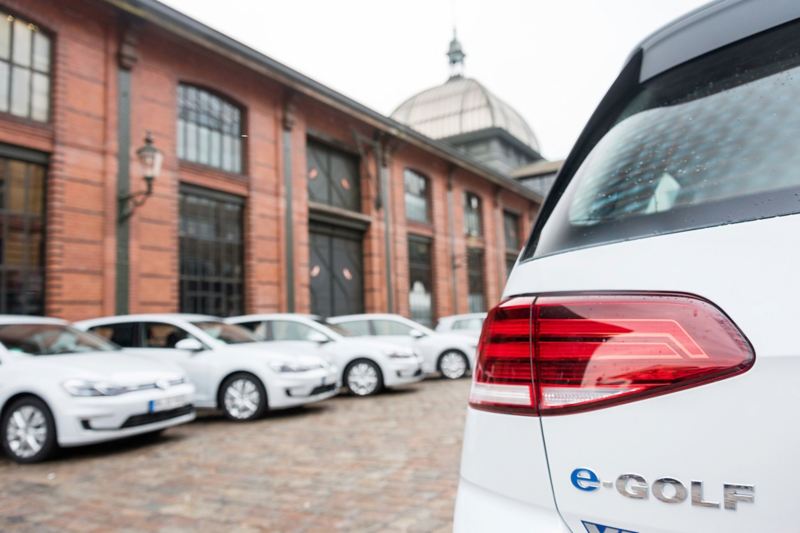 Will

electric

cars soon be driver-free?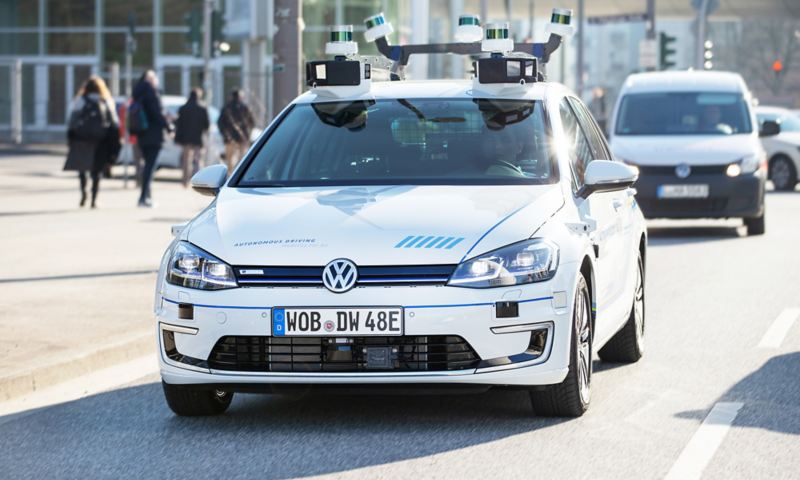 What's more, the German Ministry of Transport has officially named Hamburg as a pilot city for automated driving systems. Volkswagen is also testing automated vehicles in Hamburg's public traffic networks. Several e-Golfs1 equipped with laser scanners, cameras, ultrasonic sensors and radars will be travelling on a test route through the Hanseatic city.
Hamburg will soon be launching its first ever public bus line without any drivers. The HEAT project (Hamburg Electric Autonomous Transportation) launched in June 2018, introducing electric mini buses to the port city. They are due to start transporting passengers in spring 2019 before going completely driver-free from 2021. Their potential? Autonomous vehicles will enable transport companies to provide better access to remote suburbs with poor transport links. They will also be able to offer on-demand shuttles in the city centre in an effort to reduce traffic levels.
Hamburg is now taking to the skies too

No question about it, Hamburg is well equipped with it comes to electric mobility. The latest coup for the world of electric mobility in the model region of Hamburg: it is due to become one of five test regions for flying taxis – flying taxis with an electric drive, of course. No, it's not a joke: Hamburg has been one of the first cities in the European Commission's Urban Air Mobility initiative since last summer. To make sure flying taxis can also land in Hamburg alongside car-sharing fleets, ride-share taxis, electric scooters and driverless buses, the German Ministry of Transport has set aside additional funds and will provide EUR 15 million for the development and testing of drones and air taxis over the next four years.