Electric mobility: the everyday benefits

Electric mobility: the everyday benefits

Switching to electric mobility needs to be worthwhile – for the environment and also for the owners of electric vehicles. They are being offered more and more benefits as incentives to switch. Norway, the world champion of electric mobility, shows what life can look like. But even in Germany, buyers of electric cars are being offered more benefits than simply the "Environmental Bonus".
What we can learn from Norway

Why an

electric

registration number can be worthwhile

What benefits await residents of Berlin, Hamburg and Munic

Why

electric

vehicles

are in the fast lane in Austria
Electric mobility in Norway: driving past the jams in the bus lane

It's a very normal picture in Norway: electric cars are allowed to whiz past traffic jams in the bus lane if there are at least two people in the car. Drivers of electric vehicles can park everywhere and charge at 7,000 public charging stations, in both cases free of charge, and pay only half the motor vehicle tax. They are totally exempt from paying value added tax. The figures themselves are proof that this is the right way forward. As a percentage, Norway has the most electric vehicles and plug-in hybrids on its road – 39 percent of cars are electric.
The plan to establish electric vehicles as an attractive everyday alternative through state funding and benefits is proving to be successful. The plan was for 50,000 electric vehicles to be on Norway's roads by the end of 2018 – in fact there are already around 200,000 electrical and partially electric vehicles. The funding programme is so successful and people are so confident in electric mobility that even negative news does not harm its growth – such as the fact that electric vehicles will need to pay full motor vehicle tax from 2020 onwards or that driving in bus lanes is to be restricted.

What can Germany learn from this? An awful lot. The success of state funding and privileges in other countries acts as a role model. Electric vehicle drivers here are benefiting from this – especially if they already have an electric vehicle with an E-registration number. The E-registration number indicates to parking attendants and the police that this vehicle is powered by an electric motor. And an electric registration number offers additional benefits. Hamburg, Düsseldorf and Berlin are pioneers when it comes to promoting electric mobility in Germany.
Benefits for

electric

vehicle

drivers: free parking in Hamburg, cash rewards in Berlin and Düsseldorf

Throughout Germany, Hamburg is the city with the most public charging stations and, in addition, electric vehicles with an E-registration number can also park free at over 785 charging points – even if they are not charging their vehicle. In other cities this is only the case if the electric vehicle is also connected to the charging station. However, if you park your petrol-driven car at one of these parking spaces, your vehicle will be towed away. The opportunity of finding a parking space in the city centre thus significantly improves with an electric car and an E-registration number. What is more, all normally chargeable parking spaces are free to electric vehicles throughout the Hanseatic city. This is only the case for up to two hours in Munich.

The prospect of simply walking by parking machines instead of getting a ticket is not a reason to buy an electric vehicle. But it is certainly an incentive and a step in the right direction. The city of Düsseldorf is going one step further. Owners of vehicles with en electric drive receive a subsidy amounting to 20 percent of the purchase price – up to a maximum of €500 when they buy a wall box for their home.

If you live in Berlin and buy an electric vehicle, then you stand to benefit from up to €4000 of additional aid in addition to state funding. The city is calling this funding programme to improve its CO2 footprint "Electric Mobility for Business".
Municipalities are free to grant many special rights to

electric

vehicle

drivers.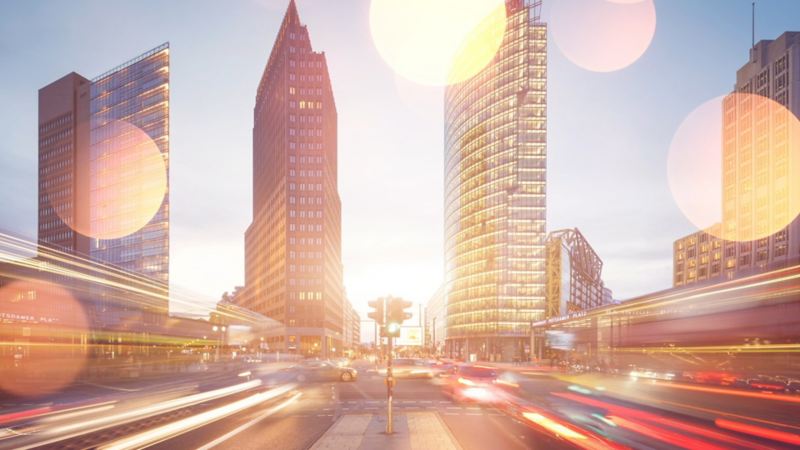 In general, the Electric Mobility Act (EmoG) enables all municipalities to create free parking spaces and permit the use of bus lanes. However, an evaluation report by the government shows that only 57 percent of municipalities are aware of this possibility. A survey by the Federal Transport Ministry and the Federal Ministry for the Environment also shows that only 22 percent are currently applying the Electric Mobility Act and granting permits. This is far too little if municipalities wish to promote electric mobility. Other countries are passing Germany by in this respect – among them Austria.
Electric

vehicles

in the fast lane: Electric

vehicles

are permitted to driver faster than petrol-driven cars in Austria.

Austria is planning to introduce onto the roads what up to now is a unique approach to electric-powered vehicles. In 2019 a different speed limit applied to electric vehicles than to petrol-driven cars on certain sections of motorway. The maximum speed for electric vehicles was 130 km/h compared for 100 km/h. This privilege is to apply to around 440 kilometres of motorway, and particularly sections that suffer from very high emission levels. As pure electric vehicles drive locally CO2-emission-free, they were allowed to pass other vehicles.

Naturally this and other benefits will not solely ensure that we will soon only see electric cars on the streets. But incentives combined with a growing environmental awareness and the continued further development of range and charging infrastructure in the long term will result in electric mobility being seen more widely on the roads.