Electric fans love these gadgets

Electric fans love these gadgets

Remote-controlled cars with artificial intelligence, new levels of virtual reality and increasingly sophisticated drones: these cool gadgets are great fun.
How to take

virtual

reality from everyday life into a game

Why the next

generation

of the "Carrera" racetrack is equipped

with

artificial intelligence

Why drones are more than just a gimmick

Which gadget can you get yourself
1. Ingenious gadget:

virtual

reality

Video and computer games have long since achieved a degree of realism that is hard to differentiate from reality. Racing and sports games now look like live broadcasts on TV. Virtual reality goes one step further. It doesn't just take the virtual world and put it on a screen, it does the opposite: it completely transports the viewer out of everyday life and plants them in the virtual world. It literally surrounds them. Virtual reality glasses allow the user to find themselves in the middle of the action. This artificially created reality surrounds them 360 degrees in all directions.
Although you are sitting at home on the sofa, you can still feel the butterflies in your stomach when the roller coaster rushes down the loop, as if it were real life. Or when the racing car drifts through the steep curve. Virtual reality doesn't just look impressive, it also tricks the brain. It perfectly simulates the feeling of speed and height so that your brain and sense of balance actually believe you are sitting in a racing car.

But virtual reality is ideal for more than just games and interactive applications. Video platforms, like "Netflix" and "YouTube", also support the technology. VR glasses let you see your favourite series on a big screen, just like being at the cinema – but without expensive ticket prices and chatty neighbours.

You can already experience virtual reality with your own smartphone. by buying VR glasses into which you insert your device for relatively little money. The "PSVR" for the "Sony" "PlayStation 4" games console or "HTC Vive" and "Oculus Rift" for PC offer more complex games and VR experiences. The small "Oculus Go" version even works fully independently and wirelessly.
2. Cool gadget: "Anki Overdrive"

The good old "Carrera" racetrack has always been fun. "Anki" takes the game into the modern digital era with overdrive. Instead of racing on fixed tracks, the little electronic racing cars freely drive along the track in "Anki Overdrive", controlled by an app on your smartphone. And they can do even more. Thanks to artificial intelligence, the vehicles learn the routes so that they can even drive independently along them – even jumping over ramps on their own. And so if you don't have a human to play with, you can simply challenge artificial intelligence in the race.

These little super cars differ by more than just their design – they also have different driving characteristics and behave differently in every race. In the meantime expansion sets with new track elements and vehicles types are ensuring even greater diversity. "Anki Overdrive" is the perfect gift idea for tech freaks of any age, as well as an entertaining way to pass the time. Having said that, the rechargeable battery in the intelligent mini electric cars is depleted in less than 20 minutes and needs to be charged before it can return to the racetrack.
3. Practical gadget: drones

Drones are having a hard time of it in Germany, as the strict regulations only permit private drone flights under certain conditions. Nonetheless, these little flying devices are becoming increasingly popular. At first glance, a 'drone' adventure might appear expensive and dangerous but these concerns are quickly transformed into enthusiasm when you've flown a drone via smartphone app or even remote control. And, thanks to smart electronics and sensors, many drones are now capable of independently detecting and circumnavigating obstacles. That also makes it easy for novices to skilfully manoeuvre the technically sophisticated gadget through the air.

A drone is not just a technical gimmick for outdoor enthusiasts. A flying gadget like this is practical, above all, for original photos and video recordings from unusual perspectives. High-quality quadrocopters have diverse flight modes, which enable them either to follow or circle around people creating completely new perspectives when hiking in the mountains, for example.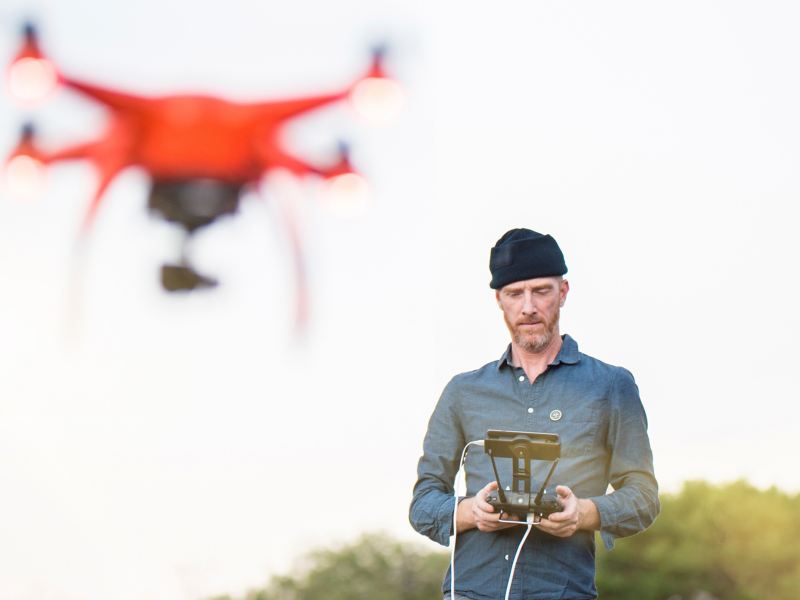 Away from amateur flights, drones have also established themselves in the professional sector, among other things in film productions and rescue services. Now there's even a "Drone Racing League", a professionally organised racing league for drones flown from the ground using special VR glasses.

But the product range is diverse enough for novices and amateur pilots, depending on their application and level of experience, from palm-sized mini drones to quadrocopters weighing several kilogrammes with a triple-axis camera for professional aerial photography. The majority of manufacturers are now developing drones for all ages and for low entry levels. Depending on your needs and budget, there are even drones that can be used indoors and by children.

However, the one thing that all drones have in common, regardless of their prices and technology, is their relatively short flying time. Their rechargeable batteries are generally depleted after only 30 minutes and either need to be charged or replaced. The more expensive models even return automatically to the pilot as soon as their power starts to run low.
4. Smart gadget: "Lego" robot

"Lego"-type building blocks are timeless and ageless. Nonetheless, the Danish toy company is not ignoring the spirit of the modern age. "Lego" therefore hopes that its "Boost" product range will combine the analogue enjoyment of playing with building blocks with the digital world of its fans. The result is "Vernie", a robot made of "Lego blocks". This combined gadget and toy is intended to teach first programming skills through play.

"Vernie", which is constructed from over 800 "Lego blocks", learns movement and behaviour patterns via the associated app and even reacts to its environment. Instead of using complex lines of code, users bring the small robot to life using simple symbols on the display of their smartphone or tablet. The focus is on experimentation and the release of creative energy. MINT skills (Mathematics, Informatics, Natural Science and Technology) can therefore be learned gradually and intuitively. A cool technology gift – and not just for children.