Electronic sport: a short-lived trend or a real sport?

Electronic sport: a short-lived trend or a real sport?

Sitting in front of your computer and playing football – is that really sport? Electronic sport is a globally growing phenomenon inspiring more and more players. A business worth millions has grown out of this niche market. But not everyone views this growth with enthusiasm.
How VfL Wolfsburg turns young "FIFA" sportsmen and women into professionals

Why electronic sport is really sport

Which digital sports have the most fans

Why are electronic games sometimes more strenuous than physical competitions
As a young boy, Timo Siep wanted to become a professional footballer, like many his age. However, a broken arm brought his career as a professional sportsman to a premature end. The fact that, in 2016, VfL Wolfsburg nonetheless signed a contract with the now 21-year old from Cologne, is not due to his sporting talent on the field. Rather, Timo Siep along with Benedikt Saltzer is one of the first German electronic sportsmen to compete for a football club.

VfL Wolfsburg has been involved in electronic sport since 2015 and was the first team to sign up Benedikt Saltzer as the first professional electronic sportsman in Germany. Since then both professional gamers have been regularly playing in front of their console and also in the virtual stadium in their green and white shirts. In 2018, VfL Wolfsburg set up the "Wolves E-Academy", a squad training ground that specifically promotes young electronic sportsmen and women and trains young "FIFA" players to become professionals.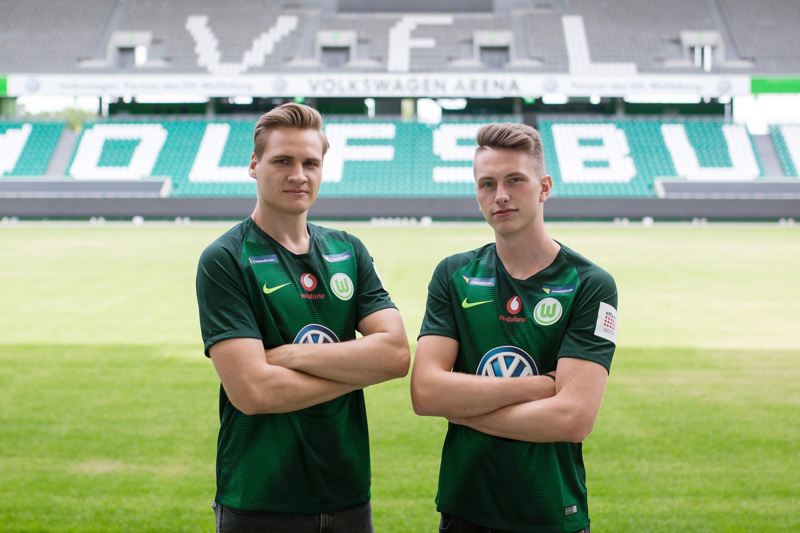 What is electronic sport even?

Electronic sport has had a hard time of it in Germany. While a career path as an electronic sports professional is both accepted and actively promoted in the Asian region, in Germany we continue to be divided about what electronic sport actually is: a pastime or real sport? The "German Olympic Sports Confederation (DOSB)", for one, does not recognise electronic sport as a sport. So far, very few sports and football clubs regard electronic sport as an opportunity to awaken new enthusiasm for analogue sports in young people and adolescents. There are also very few studies that show that fans of virtual football also enjoy kicking around a ball outside. But they clearly have an affinity for the sport.

At the end of 2017, the "Electronic Sports Association of Germany" (ESBD) established a registered association that actively campaigns as a sports club for the interests of electronic sports. The "ESBD" regards itself as an interface between the parties, and as a point of contact for politics and administration, as well as for sports and umbrella associations. The "ESBD" maintains that "electronic sport has a firm place in the German sporting word and is also permitted to be there," as it states on its website.

Electronic sport, also known as electronic gaming, is a sporting competition between two or more human participants, fought out on a computer or games console. Unlike real sport, such as football, the electronic sportsmen do not necessarily have to face each other or sit opposite each other on the field of play. They can take part in games and tournaments online with ease, and pit themselves against the best "FIFA" players around the world. Even locally organised tournaments (for example in the form of LAN parties) are becoming increasingly popular and broadening their appeal.
Electronic sport is more than a sport

Now electronic sport is even

being

shown on TV

Traditional TV channels are now even reporting on the new form of sporting competitions or even broadcasting them live. Since the end of January 2019, "eSPORTS1" is the first live German-speaking channel to offer "events and highlight programmes and in-house produced magazine programmes" on electronic games 24 hours a day, seven days a week.

As one electronic sport is not the same as another electronic sport, there are also different digital sports in which electronic sportsmen and women compete against each other. In Germany it is predominantly "FIFA" that is played at an international level. But racing games or real-time strategy games have been played professionally for some time. "F1", the official "Formula 1" computer game, crowns a motorsports champion every year. Admittedly the drivers drive on a screen, but the electronic sportsmen and women also control their virtual racing cars – true to the model – with a steering wheel and pedal.

"Formula E" goes one step further. The "Ghost Racing Game" racing simulation game even allows fans of the electric series to drive in real Formula E races. Using live transmitted telemetry and GPS data, they can pit themselves against the real drivers on the track in real time.
Is electronic sport actually sport or not?

The fact that electronic sport is not regarded as a valid sports discipline in Germany is due, among other things, to the genres that are represented. Apart from the aforementioned sport simulations, ego-shooter games, like "Overwatch", are popular electronic sports games. These are computer games in which virtual figures shoot each other – an argument that critics like to put forward. Traditional sports clubs also complain about the supposed physical component that is missing. But as the "ESBD" states, "there is nevertheless a motor skill-based activity by operating the input devices, which defines this as a sport". Especially as chess is also regarded as a sport – a counter-argument frequently invoked by supporters. The motor skill-based activity involved with shooting and motorsports falls into this same category.

There has been research carried out on electronic sports for many years at the "Sport University Cologne". Researchers came to the conclusion that "the stress levels caused by the motor skill-based activity involved in electronic sport is greater than that of other sports". So the stress levels of players is comparable to that of motorsports competitors. So while politics, associations and the games sector continue to debate whether electronic sport is a sport or not, the pro-gamers are now playing for sponsorship and to win millions of dollars of prize money – just like their real role models.
Sponsorship, high prize money and even a career

There has been a professionalisation of the trend parallel to the growth of electronic sport. The "Electronic Sports League" (ESL) has established itself as a league that brings together millions of teams and gamers around the world and is professionally dedicated to electronic games. The discussion about the equality and recognition of electronic sports as a sport has long since been answered.

And the two "FIFA" professionals Timo Siep and Benedikt Saltzer? They are also able to live off their electronic sporting successes. The players train several hours a day for this. Nevertheless they still get enough exercise. Benedikt plays football for a club on the side. They already have plans in place for the years after their professional career has ended, just like real football players. Benedikt wants to teach Physics and Sport, while Timo wants to go into sports management, focussing on – how could it be otherwise – electronic sports. For them, there has been no difference between real and virtual sport for some time.