How IONITY helps European

electric

car drivers get ahead1

How IONITY helps European

electric

car drivers get ahead1

IONITY is a joint project initiated by the European automotive industry which promises to establish a Europe-wide network of ultra-fast charging stations. Charging an electric vehicle will then take no longer than an average stop at a service station. The focus is not only on smooth holiday travel with electric vehicles but also on harmonised charging standards, including all European standard plugs, along with unified, intuitive handling and a cross-border payment system.
How many ultra-fast charging stations are planned

How you benefit

with

IONITY

The most convenient way to pay at the new charging points

Why the fast charging network is growing more and more rapidly
From Hamburg to Genoa and back in an electric car? Soon this will be far easier than ever before. The Munich-based company IONITY aims to address an issue that has fallen behind: quick-charging stations along the most important European motorways and highways. By the year 2020, the IONITY charging infrastructure will cover 23 countries with a network of 400 high-power charging stations, each equipped with two to twelve charging points. The aim is to ensure that the distance between two of these ultra-fast charging stations located at rest areas and service stations will never exceed 120 kilometres.

The declared goal as to reduce the charging times of electric cars to such an extent that a trip through Germany and Europe becomes as quick and convenient as in a car with a combustion engine. A vision that makes travelling easier – and offers electric car drivers constantly increasing flexibility even on long journeys.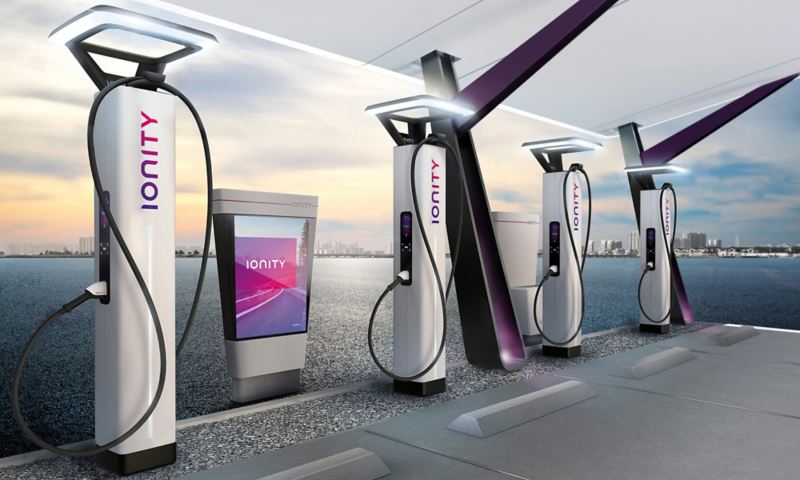 The IONITY joint venture was founded in 2017 by the major automotive manufacturers, BMW, Daimler, Ford and the Volkswagen Group together with the Audi and Porsche brands. To date, 58 high-power charging stations have been completed along the motorways and the next 52 locations throughout Europe are under construction. The speed with which this charging infrastructure for long-distance travellers in electric vehicles will grow in the coming months depends on the permits from the individual countries. In Germany alone, 100 of the 400 new stations will enter into operation by the end of the year. The electricity is drawn from renewable sources.
Charge up to seven times faster than ever

High-power charging (HPC) provides a peak charging capacity of 350 kilowatts per charging point. In comparison,charging stations on German motorways currently charge have an output of between 50 and 150 kW per charging point. As such, IONITY delivers the required energy up to seven times faster than conventional charging stations – depending on the electric car model, battery condition and outside temperature. Vehicle models that can make full use of this peak charging capacity will be launched from 2019 onward.

All electric vehicle owners can already charge their cars with the normal speed at the ultra-quick-charging stations as they utilise the combined charging system or CCS. This is a Europe-wide standard charging plug which can be used for both DC and AC charging, thereby increasing compatibility. As the CCS Charge Map Europe shows, this is the most extensively developed system in many EU countries. Now at least an empty battery no longer stands in the way of electric driving pleasure on your way through the mountains or to the beach.
With the creation of the first pan-European HPC network, we are

making

electric

mobility suitable for long distances.

Intuitive handling – standardised payment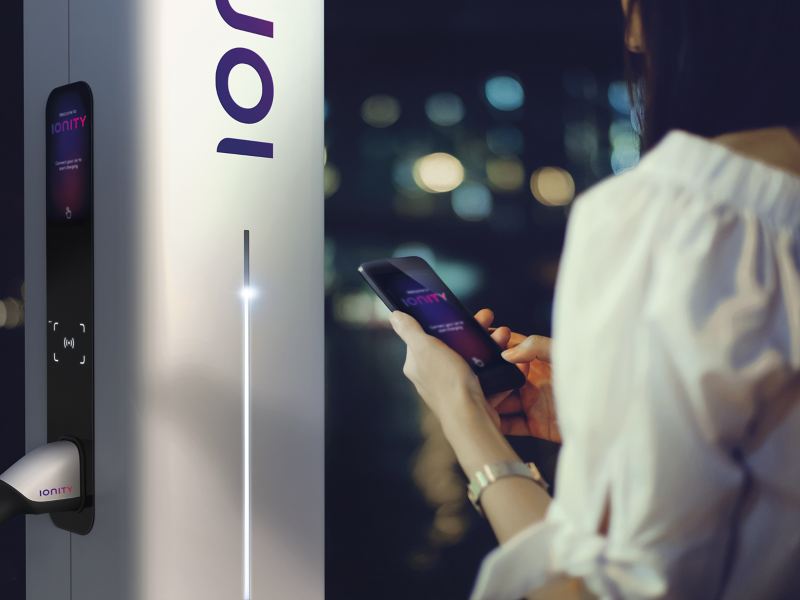 The finished HPC charging points our eye-catching feature on motorways: sleek, white columns with the IONITY lettering. The ultra-fast charging cable runs from a rectangular frame at the top of the column to the electric car. This not only prevents cable clutter. Lights are also installed on the frame to ensure sufficient illumination at night.

The payment process is handled via app and users do not need to register. If you like, you can also scan a QR code on the quick-charging station and pay your bill by credit card or PayPal via the IONITY payment page. The Charge & Fuel Card → from Volkswagen Bank GmbH represents another payment option. The system makes charging even more convenient as you simply have to hold the card up to the charging station and the billing takes place monthly.
The quick charging network is growing rapidly

The joint venture is not the only company to support European Electric mobility. Fastned, a Dutch provider, also intends to set up a next-generation fast charging network with up to 350 kilowatts per charging point. In addition, the Danish electric mobility service provider CLEVER is cooperating with the electricity supplier E.ON to create a Europe-wide infrastructure of quick-charging stations. These are expected to be expanded modularly for a charging capacity of up to 350 kW. In Austria, the company Asfinag plans to install quick-charging stations with more than 150 kW charging performance every 100 kilometres. Whether a short trip or a long journey – thanks to these fast charging networks, there will soon be no limits to the adventures in electric vehicles.