A visit to the ID.

family

: the Gläserne Manufaktur (the Transparent Factory) in Dresden
A visit to the ID.

family

: the Gläserne Manufaktur (the Transparent Factory) in Dresden
When you think of electric cars, you automatically wonder how suitable they are for everyday use today. To find out, a visit to the Transparent Factory in Dresden will help. In the ID. experience world, you can discover the diversity of modern electric mobility from Volkswagen with all your senses – and even get up close and personal when an ID.3 is being built. 
Dresden on the pulse of

electric

mobility
The Transparent Factory in Dresden is a centre of concentrated expertise in the field of electric mobility. But above all: it is the home of ID. In addition to show cars and interactive exhibits on the topic of electric mobility, the ID. experience world has its own restaurant and an ID. store. Here visitors can get to know the highlights and equipment variants of the ID.3 and ID.4 models – whether during an hour-long ID. product and purchase consultation with our experts or during configuration of the desired vehicle on a giant screen. Those who prefer to take a closer look at the ID. models can do so from the driver's seat. Or you can test drive one of the ID. models available on site and experience how the future of electric mobility feels on the road.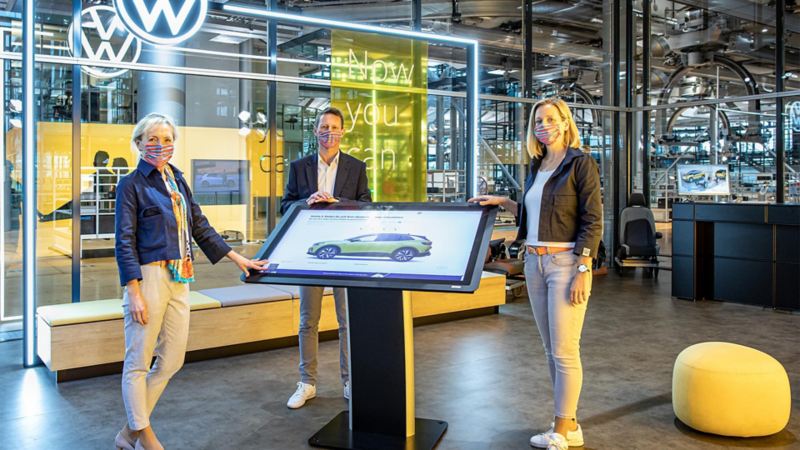 Hands-on assembly on the production line
But the Transparent Factory also has a lot to offer for technology fans  especially for those who want to see how an ID.3 is assembled here in a CO2 neutral manner in terms of the balance sheet. The special thing about it: during our production tours, visitors can not only accompany the ID.3 along the production line for a while, but also lend a hand and help build it themselves under expert guidance – if it can be arranged, even on their own vehicle. When an ID.3 is finally ready for the road, future ID. owners are offered a special highlight on site: personal vehicle collection. Spectacularly staged, it makes the day in the Transparent Factory perfect – and the vehicle handover an unforgettable experience.

To the Transparent Factory in Dresden