Over-the-Air Updates: conveniently download updates for the software in your ID.

You will be aware of software updates from your computer or smartphone. Over-the-Air Updates ensure that your ID. now remains up-to-date as well. Because it can pick up new software versions simply via a mobile data connection. This continuously improves operation, performance and comfort – and even new functions can be "learned".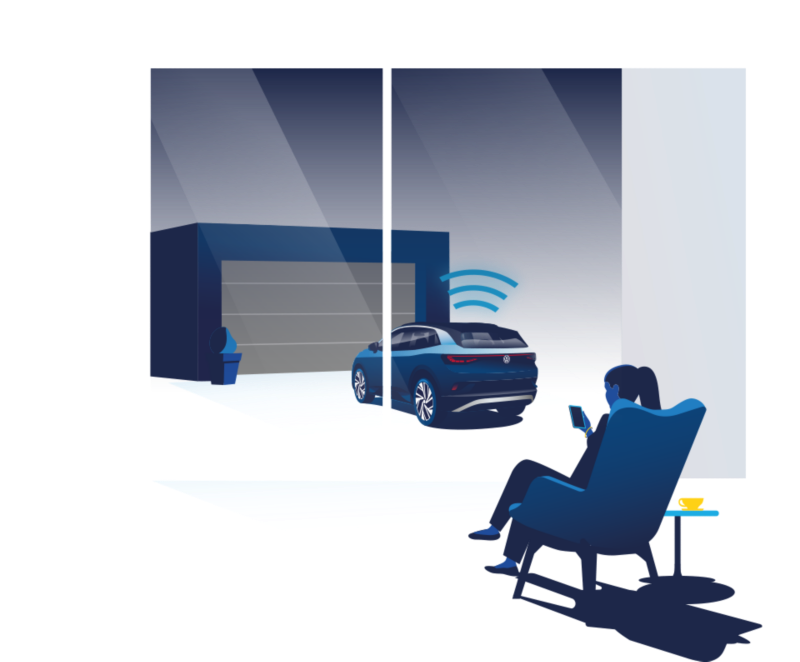 What kind of updates are there? 

Over-the-Air Updates are software updates that can be downloaded via the vehicle's wireless access in many countries, some of which require a primary user. 
On the one hand, there are updates from pre-installed programs that are independent of the ID. software. These include navigation maps and in-car apps, like "We Charge" or "Vehicle service", which you can use to find charging stations and arrange necessary service appointments. This is similar to updating apps on your smartphone to the latest version. On the other hand, firmware updates of the ID. software update the vehicle's control units. For example, they can optimise features, such as the ID.Light or surroundings recognition, and also adapt the design of the Infotainment system. As is the case with many digital devices, further developed versions of the operating system regularly become available. This is often a prerequisite for using the latest versions of other programs. Just like some Over-the-Air Updates of your ID.
What is the benefit of Over-the-Air Updates? 

Many errors can be simply rectified remotely with these updates via a mobile data network. It is quick and means that you do not need to go to the workshop for most updates.
The answer is simple: when a new software version is available – depending on the market – and with a registered primary user and in the "online" privacy setting with the consent of the driver of the vehicle, it can be downloaded and is then displayed in the "ID. Cockpit". The download can begin while driving, but installation only starts once the car has been safely parked. The driver can now view information about the current update and decide whether the installation should be carried out immediately or later. For safety reasons, the car cannot be started or charged during the update, so overnight installation is recommended. Once the installation has been completed, the update is ended via the OK button on the multifunction steering wheel. So, your ID. is always fully up-to-date.