Sporty

electric

performance summed up in three letters: GTX
Red stands for power and intensity. Two qualities that define the ID. family as well. Fittingly,  the exterior color "King's Red" together with the red decorative stitching in the interior characterizes the GTX performance class. It is the ID. that is characterised by its sportiness, the vehicle whose communication colour, sporty and elegant design and, above all, performance enable it to tower over the competition. We introduce the GTX series to you here.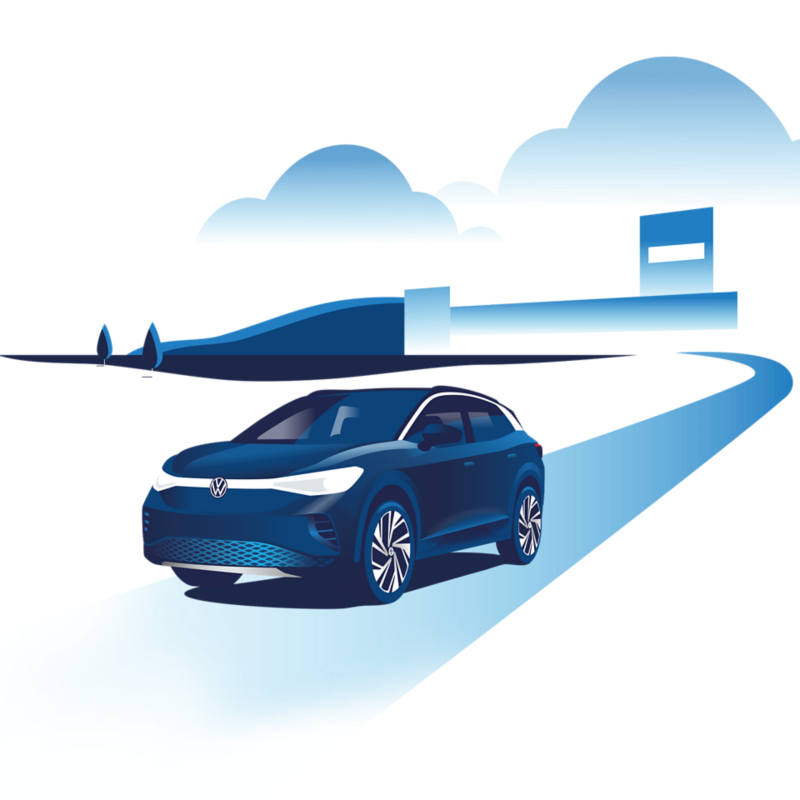 E + X: The performance plus
A GTX is just as efficient as an ID. and accelerates like a GTI. Our secret: We have added a second electric motor to the vehicle, a power pack that creates four-wheel drive. The car's all-electric performance lifts us to the GTI level. You can reach your destination even more sportively. The large high-voltage battery in the floor of the body creates an optimum center of gravity in terms of driving dynamics for balanced driving performance and good curve stability. The result is a balanced feel behind the wheel. And, naturally, the vehicle has plenty of range as well. In the ID.5 GTX (power consumption in kWh/100 km: combined 17,1; CO₂ emissions in g/km: combined 0; efficiency class: A­+.), you can travel up to 493 km on a single battery charge. With a top speed of 180 km/h, you can quickly put your everyday cares behind you. All the while, your car will be powered by quiet-as-a-whisper electric motors that will dynamically carry you down the road without producing any CO2 emissions along the way.
Ready for anything: the GTX's drive technology
The GTX series is a trailblazer. Thanks to its dual-motor all-wheel drive system consisting of two electric motors, it drives the rear and front wheels over forest and field paths via 1-speed gearbox. To provide good traction and improved lane guidance, the drive system features the typical GTX drive mode "traction" for good grip on loose or slippery terrain. Thanks to all-wheel drive and increased performance, the trailer weight that the GTX can handle during trips should be significantly higher.
Sportiness or sustainability? The GTX offers both.
One other strength of the GTX series: Uncompromising performance is not created at the expense of sustainability. As a member of the ID. family, the GTX seamlessly blends sporty driving pleasure with responsible driving practises. This characteristic is not simply the result of the modular electric drive matrix (MEB) that is used in the vehicle, a feature that includes a fast-charging battery system and fully taps the potential of its electric technology. Production and delivery of the vehicle are net carbon neutral as well. When you combine all of this with charging current generated from renewable energies, you get one thing: local CO2-free acceleration without a guilty conscience.