Green electricity all the way:
Together for carbon-neutral use of the ID.

family
Volkswagen is committed to the Paris Climate Agreement. That's why we are initially focusing with the ID. family on carbon-neutral1 delivery of vehicles to customers. But for an electric vehicle to remain carbon neutral during the usage phase too, it also has to be charged with green electricity. To make this available, we promote investments in the generation of additional green electricity.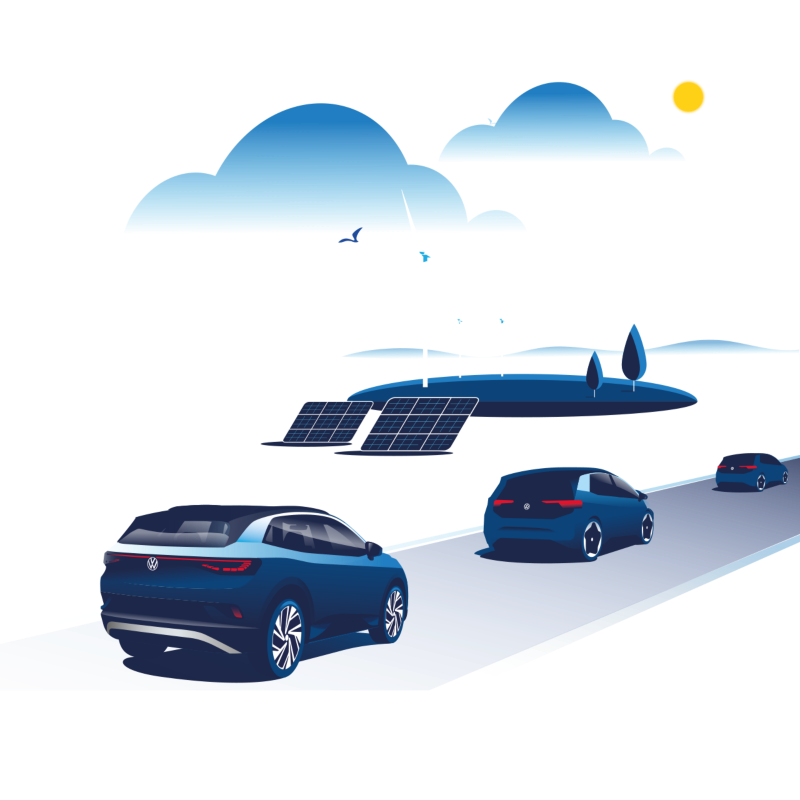 Our path to carbon-neutral mobility
The electric drive makes an important contribution to the energy turnaround. That's because it is tailor-made for the efficient use of renewable energies and reduces carbon emissions in car traffic. By systematically switching to electric mobility, we are therefore pursuing a holistic approach: we want to build electric cars that are not only electric, but also carbon neutral in terms of their balance sheet – from production through the use phase to the recycling of materials. And when it comes to the use phase, one thing counts above all else on the path towards carbon neutrality: targeted charging with green electricity.
Sustainable

electric

mobility starts at the

electric

socket
Basically, the greener the electricity mix, the greener the electric mobility. For example, according to the life cycle assessment published by Volkswagen, an ID.3 powered exclusively by green electricity already has a better carbon footprint than a comparable combustion engine from around 56,000 kilometres. With the conventional European electricity mix, on the other hand, this mark is only reached at around 125,000 kilometres. By 2030, the Volkswagen brand aims to reduce average fleet emissions in Europe by around 40% per vehicle compared with 2018. In order to achieve this together, we are focusing on a two-pronged approach with the ID. family that will ensure the required quantities of green electricity. 
What you can do to protect the climate
Our approach:
1. We take responsibility for ensuring the availability of additional green electricity. The drivers look after charging the ID. models with green electricity, if possible. Various charging scenarios exist in which clean solutions are already available: for example, the TÜV Nord-certified Volkswagen Naturstrom® from our Group subsidiary Elli, which supplies green electricity for the home charging station. But many charging stations, such as the high-power charging stations of our premium partner IONITY, also charge with green energy throughout Germany.
What we are doing to protect the climate
2.
On the road, however, green electricity is not always and everywhere available. While we estimate that 60% of charging power needs are already met with renewable energy, our ID. family, among others, will require an additional 7 terawatt hours (TWh) of green electricity by 2025. To secure additional wind and solar capacity, we are working specifically with the energy industry and promoting projects to generate additional green electricity. The first project of this kind involves a photovoltaic plant with a total annual capacity of around 170 million kilowatt hours in Germany. The plant will be realised without subsidies in Tramm-Göthen in Mecklenburg as Germany's largest independent solar project at present. Following completion, just under 420,000 modules will convert sunlight into electricity.