In an exclusive collaboration with international visual artist Jason Woodside, Volkswagen New Zealand revealed the all‑new Golf.
The occasion cleverly showcased the aesthetic and design-appeal of the eighth generation Golf, utilising bespoke Woodside art pieces inspired by the landscape of Aotearoa.
Woodside says his art for this project was very much influenced by the nostalgia of both the New Zealand landscape and the iconic Golf itself.

"Golf has always been a car that has resonated with creatives and artists especially. The vehicle has a very powerful heritage which lends itself to bold imagery and strong narratives."
Volkswagen New Zealand's General Manager of Passenger Vehicles, Greg Leet, says the collaboration with Jason is also a way for Volkswagen to do something a little bit different and special for a car that is a modern brand icon.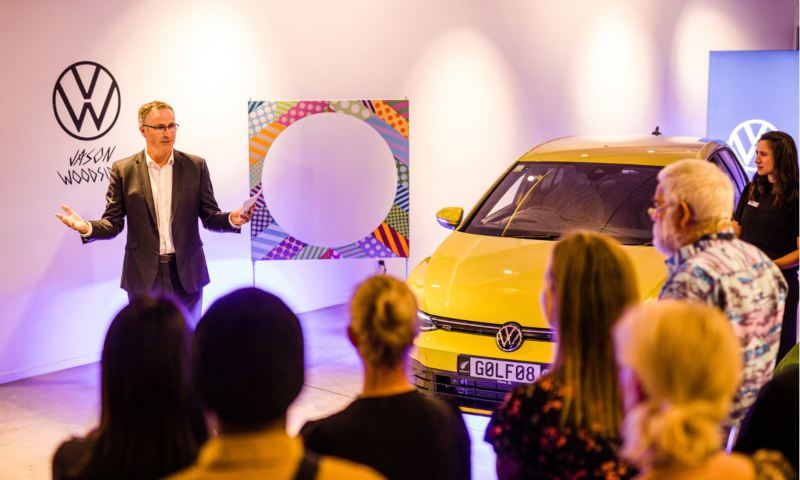 "We really wanted to do something vibrant, youthful and progressive with Golf 8. Having the opportunity to engage Jason's unique skill-set to help tell the story of Golf's own unique heritage in Aotearoa has been an exciting partnership."
Leet says this latest generation has retained Golf's iconic styling but has been reimagined for today with all‑new technology, advanced safety systems plus an exciting new drive experience.
"It also represents the greatest leap forward since the model launched more than 45 years ago, and Golf remains the flagship model for Volkswagen," says Leet. 
Over the next few weeks Jason will be driving the all‑new Golf to the eight iconic landscapes that inspired his art, incorporating all three  – the car, the art and locations - into a unique collection of even more exciting visual content.
 Ends.
More about Jason Woodside
Currently living in New Zealand for family and lifestyle, Jason began his career in New York City, attending the School of Visual Arts in the early 2000's. His work is characterized by vivid colours and fades with contrasting bands of patterns and shapes. Taking inspiration from textiles, light and nature, Woodside plays with various bold textures and public exterior settings to generate visual cohesion and optimistic emotions.