Volkswagen

ID.4 named World Car of the Year 2021
The "World Car of the Year 2021" is a
Volkswagen

: The new fully

electric

ID.402 prevailed over the strong international competition at the international World Car Awards. The World Car Awards are presented by more than 90 international

motor

journalists from 24 countries, who vote on the best innovations on the world

market

.

We are particularly pleased about our ID.402 being named World Car of the Year", says Ralf Brandstätter, CEO of Volkswagen passenger cars. "Not only because it is one of the most important car awards in the world - but because the jury also honored a great idea and a great team. The first ID. Model for the key markets of Europe, China and the U.S. carries our electric offensive around the world. A convincing car, a great idea - and the World Car of the Year award? That goes well together for us!"

Vehicles that are eligible for the World Car of the Year award must be manufactured in at least 10,000 units per year and be offered on at least two continents.

"The World Car of the Year award marks a great success for our entire ID. Team," says Thomas Ulbrich, Board Member for Development at the Volkswagen brand. "We have succeeded in developing a car that starts the system change to e-mobility in the world's most important segment of compact SUVs and offers excellent everyday usability. With it, the ID.303 and the upcoming ID. models, we are making innovative electric mobility in the volume market something that can be experienced by everyone."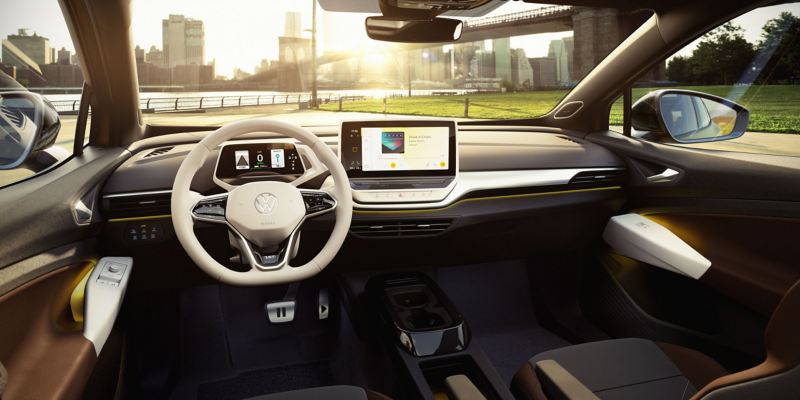 The jury praised the environmentally friendliness of no direct emissions as well as the innovative features of the ID.402. For instance, the innovative augmented reality head-up display is optionally available. It can project important information onto the windscreen such as turn arrows of the navigation system. The driver sees this information as a three-dimensional, staggered image at an apparent distance of three to ten metres in front of the vehicle. This means that the display is perfectly integrated into the real outside world. When Adaptive Cruise Control (ACC) or Travel Assist (optional) is active, the vehicle in front of the ID.4 is highlighted with a luminous marking in the head-up display from a certain speed to be able to keep the required distance.
The ID.402 also sets standards in digitization. In this way, the car can receive regular updates and new functions "over the air". Volkswagen is the first provider in the volume segment to offer this from the summer. The vehicle is always up to date. This ability is also an important requirement for enabling new business models.
With this at the 17th edition of the World Car of the Year award, the ID.402 continues the success story of Volkswagen at this contest. It is not only well received by the trade press, but also by customers. Volkswagen plans to deliver around 150,000 ID.4s worldwide this year. The e-offensive is a core element of Volkswagen's ACCELERATE strategy. The company plans to bring at least one new all-electric model to market every year.
Because of the COVID 19 pandemic, the award ceremony of the World Car Awards took place digitally this year. It can be viewed again on YouTube.com/worldcartv.
01. ID.4 1ST Max – Electricity consumption in kWh/100 km (NEDC): 16.2 (combined), CO2 emissions in g/km: 0; efficiency class: A+
02. ID.4 - power consumption in kWh/100 km (NEDC): combined 16.9-15.5; CO2 emissions in g/km: 0; efficiency class: A+
03. ID.3 – power consumption (NEDC) in kWh/100 km: combined 15.4-13.1.; CO2 emissions in g/km: 0; efficiency rating: A+
World Car of the Year 2021 - 

Volkswagen

ID.4

All
Volkswagen

winners at the World Car Awards:

2009: Golf (World Car of the Year)
2010: Polo (World Car of the Year)
2012: up! (World Car of the Year)
2013: Golf (World Car of the Year)
2021: ID.402 (World Car of the Year)