Volkswagen Group Components - a separate component producer under the VW Group umbrella - has teamed up with German EV converter eClassics to produce a conversion kit to turn a classic Beetle into an EV.
The conversion uses new parts produced by Volkswagen Group Components based on components from the new VW e-up!, including the electric drive, 1-speed gearbox and battery system are.

The conversion is carried out by the specialist company eClassics and a "near-production" version of the e-Beetle made its premiere at the International Motor Show (IAA) in Frankfurt, Germany.
"The electrified Beetle combines the charm of our classic car with the mobility of the future. Innovative e- components from Volkswagen Group Components are under the bonnet – we work with them to electrify historically important vehicles, in what is an emotional process," said Thomas Schmall, Member of the Board of Management of Volkswagen Group Components.

"We are also providing Beetle owners with a professional conversion solution, using production parts of the highest quality."
The e-Beetle's battery system is built into the underbody (which explains those slightly awkward thick sills) and consists of 14 modules with a capacity of 2.6 kWh each delivering energy of up to 36.8 kWh.
Volkswagen Group Components says that the higher performance and the increased weight due also required the adaptation and reinforcement of the chassis and the brakes.
The e-Beetle accelerates to 50 km/h in just under four seconds and to 80 km in just over eight seconds which, while slow by EV standards, still makes it far quicker than the original. It has a top speed of 150 km/h and a range of 200 km. The company says use of built-in series-produced components allow for fast charging via a combined charging system, making it possible to get 150 km of range into the e-Beetle after charging for around an hour.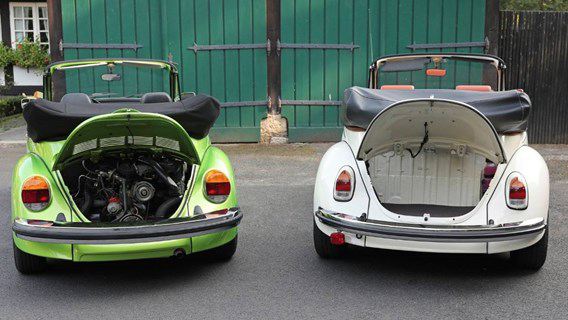 The company says the concept can be transferred to other historic vehicles.
"We are already working together to prepare the platform for the Bus (Kombi), and an e-Porsche 356 could also be pursued in the future," said Schmall. While the current development is using the e-up! components, Schmall said the use of the VWs new MEB modular electric drive platform (that also debuted at Frankfurt in the ID.3 EV) is also being considered, creating "additional opportunities regarding performance and range."

While Volkswagen Group Components supplies the production parts for the electric drive and the battery system, the actual conversion of the Beetle is carried out by the partner company eClassics in Renningen, near Stuttgart.
"We are proud that we and Volkswagen Group Components could get the show on the road with this project," said Dennis Murschel of eClassics.
"We are also looking forward to seeing many e-Beetles on the street soon."