Sustainable Charging

with

Volkswagen

Naturstrom from Elli

The e-mobility of the future is suitable for everyday use, convenient and, most importantly, sustainable, regardless of whether you are on the go or relaxing at home.
Electrifying:
our

Volkswagen

charging concept
Sustainability has to be simple. That is why we provide everything from the electric vehicle to green electricity.
ID. Charger & installation service
Did you know that drivers of electric and hybrid vehicles with a private parking space will probably charge 80% of their electricity at home? That is why we provide our own home power tarif through our Elli, so you can also be green and CO2 neutral on the road at home. It is good for the environment and with the ID. Charger and installation service, charging is quick and easy. 
So that you can charge your electric car or your hybrid car with CO2-free produced electricity from regenerative sources right from the start, there is now Volkswagen Naturstrom - a TÜV NORD-certified green electricity. This consists of 100% renewable energy on the way to CO2-neutral mobility.
You don't have an electric vehicle yet, but you still want 100% natural electricity for your home? Nothing could be easier: simply switch to Elli and reliably switch to green electricity. Become part of the energy transition at attractive conditions:
Volkswagen Naturstrom Connect – the intelligent charging rate
With the help of the electricity rate Volkswagen Naturstrom Connect, you can intelligently charge your hybrid or all-electric car with a home wall box or socket. In this process, the vehicle will preferably always be charged until the desired departure time, when a particularly large amount of power from renewable energies is available. The payoff: You will help to optimise the use of green power and will earn points that will provide you with a rebate on your power bill. You do not need a separate power meter or smart meter to benefit. And if you are in a hurry, you can simply charge your car by using the boost button of the smart charging app.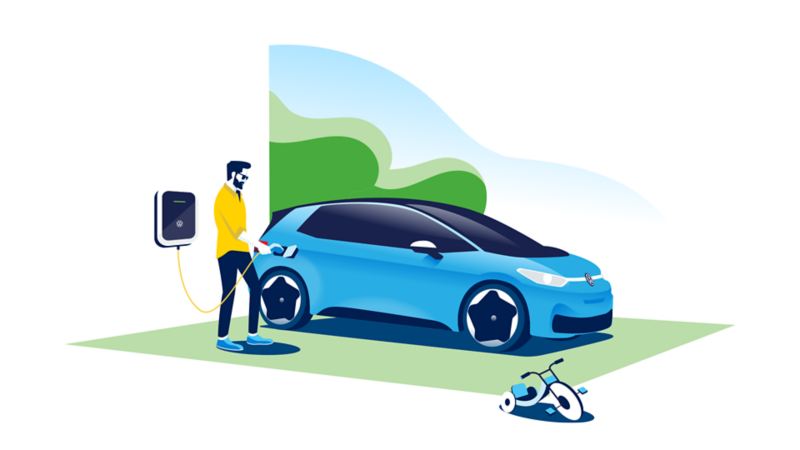 ID. Charger – the Wallbox from Elli
The ID. Charger brings the charging station to you. Now you can get into your charged electric or hybrid car in the morning and start your day full of energy. You could say it's reloading in your sleep. Incidentally, the ID. Charger is available in three versions. It even comes with a built-in electricity meter if required – so that you can always keep an eye on the energy consumption.
Our installation service also makes installation as convenient as possible for you – from the free online pre-check to the installation itself. In other words, no problem with everything under one roof. You can conveniently order your ID. Charger online or directly from your Volkswagen dealer.

In order to achieve our own stated objective of a carbon-neutral ID., we have even made it possible for you to charge your vehicle on the go – simply and sustainably. The key: We Charge. 
Charging
with

We Charge in the We Connect ID. App

We Charge is a digital access to more than 250,000 public charging points all over Europe and makes charging your electric or hybrid car that much easier. You can also effortlessly plan routes following the public charging station network and navigate to free stations. For example, it can guide you to IONITY stations, where various services are available, depending on the preferred contract. These quick-charging stations are not only powerful but also – depending on availability in each country – already partly up to 100% green.
Paying
with

We Charge in the We Connect ID. App

With We Charge, payments too are easy and transparent through your chosen charging current contract. Invoice included. Throughout Europe at the tethered loading stations. Convenient with a smartphone with the We Connect ID. app from Volkswagen. Authentication at the charging station requires either the We Charge charging card or Plug & Charge in future, when the charging station will be able to identify you from your electric vehicle. And while you are charging your vehicle, you can use the app to check and manage the charging status on the move or set it to notify you when the charging process is complete. Everything is automatic. We Charge, so to speak.