The new online route planner for ID. Models

Newcomers to the topic of electric mobility, in particular, will have many questions: Can I travel long distances also with my ID.? How often and where do I need to recharge? How long does charging take, what will it cost and what do I do while I am waiting?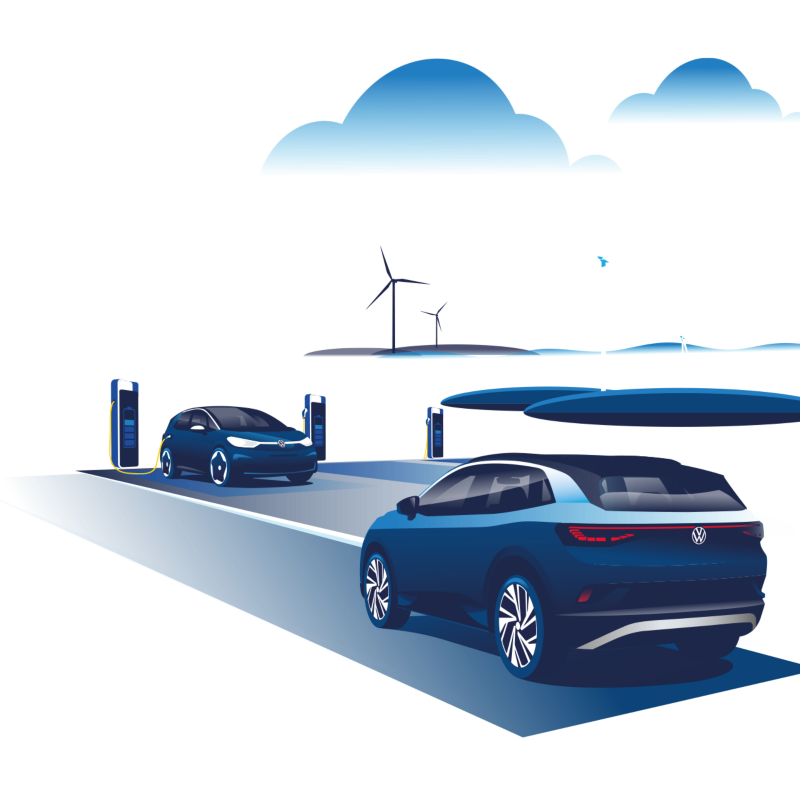 Questions that are often paraphrased by terms such as "low-battery anxiety" or "range anxiety". So first of all: long distances are not a problem with the ID. Though you should still plan your route and charging stops carefully – especially if your destination is outside of the range or if your battery charge is low when you set out. Volkswagen can help out here with its practical route planner for the Volkswagen ID. models. The route planner takes account of all key vehicle parameters for your trip and calculates the best route for you, including charging stops, based on the realistic customer range span*. But it doesn't just support you in planning the route for your ID., it also helps you to find the right ID. model for your mobility needs. In addition, the route planner shows you all of the charging stations that can be used by Volkswagen customers within your surrounding area or at your destination – including real-time availability status.
Route planning for your ID. has never been easier 

You simply enter your starting point, destination and, if required, your planned via points, and the route planner does the rest, calculating the ideal route for you including the necessary charging stops and stations. Do you not have an ID. yet? Then you can use the route planner as a convenient and practical way to find out in advance which ID. model and battery size suit you and your needs best and how you can manage your medium- and long-distance routes for your next city trip or holiday. 
If you are already driving a Volkswagen ID. model, you can use the route planner to quickly and conveniently plan a specific trip. You can choose your specific ID. model under "Select model"  and pre-enter the desired charge level of your battery on departure, at charging stops and on arrival under "Charge level"  so that you can plan the optimum departure time, for example, or combine a charging stop with lunch. If there are charging points you know of on the way and would like to use, then you can likewise include these as via points in the planning. All input is taken into account by the route planner with the aim of finding the best route for you.
Practical consumption based on different parameters

Consumption levels vary for city driving, on main roads and motorways due to different speeds; these are also replicated in the WLTP by the cycle phases "City", "High" and "Extra High". The route planner calculates the consumption using speed classes, which are based on the individual WLTP phases, and can therefore establish an expected practical consumption level for each street. The recommended constant speed on motorways of 120km/h is used as a basis on motorway journeys. The outside temperature also plays an important role. The route planner currently calculates on the basis of an outside operating temperature of 23° Celsius. In practice, the range can reduce significantly at low temperatures. Further temperature scenarios will also be considered in the future.
Calculating charging stops based on defined preferred charging behaviour and the available charging infrastructure 

The route planner aims to find you the fastest route and therefore automatically plans the required charging stops for you based on how you define your charging behaviour at charging stops (minimum and maximum charge level), the available charging infrastructure and the desired route for reaching the charging points. When calculating the charging duration, the relevant contributing factors considered include the charge level on reaching the charging station as well as the maximum charging capacity of both vehicle and charging station. The ID.3 Pure, for example, (power consumption in kWh/100 km: 13.8-13.1 (combined); CO2 emissions in g/km: 0; efficiency class: A+) allows you to experience the time that can be gained with the optional quick-charging option, by simulating the route with and without the quick-charging option. 
In short: The route planner allows you to also master long and medium distances with the ID. models, while keeping an eye on all of the important information such as charging stations, charging times or charge level. Only one thing is important to consider: plan first, then drive.
Reach your destination or the appropriate charging station

with

just a few entries. The route planned in detail.

Based on just a few entries, the route planner calculates the best route to your destination for you and shows you all of the appropriate charging stations for your charging stops en route. In addition, you can find all of the charging options in your surrounding area or at your destination with a simple click of a button.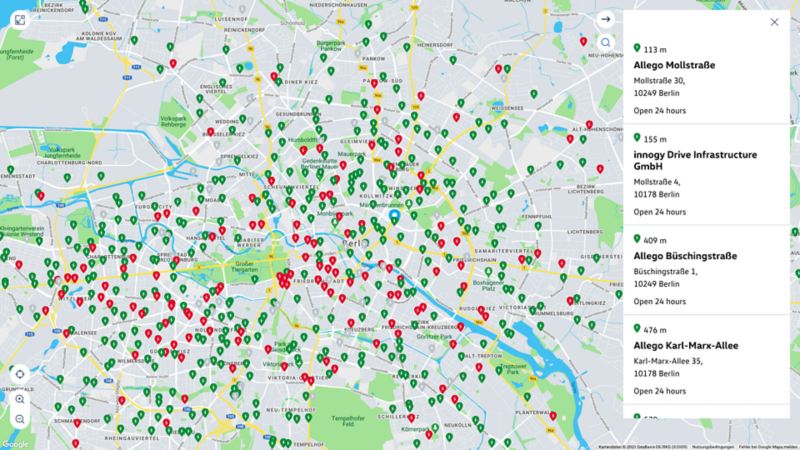 Are you looking for a suitable charging station in your surrounding area or at your destination? Simply enter the desired location and all charging stations that can be used by Volkswagen customers in the surrounding area will be shown on the map. The filter function is really useful here, as it can filter charging points based on criteria such as charging capacity (in kWh), connector type or provider (e.g. only IONITY, only We Charge). You also receive additional information about every charging station (e.g. address, provider, opening hours etc.) and the real-time availability status of each connector.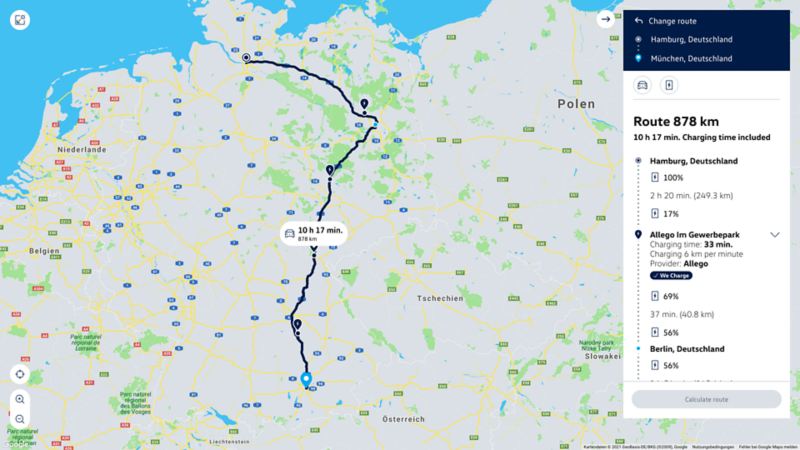 Would you like to plan a longer journey with an ID. model? Then use route planning. Enter your destination to start the planner.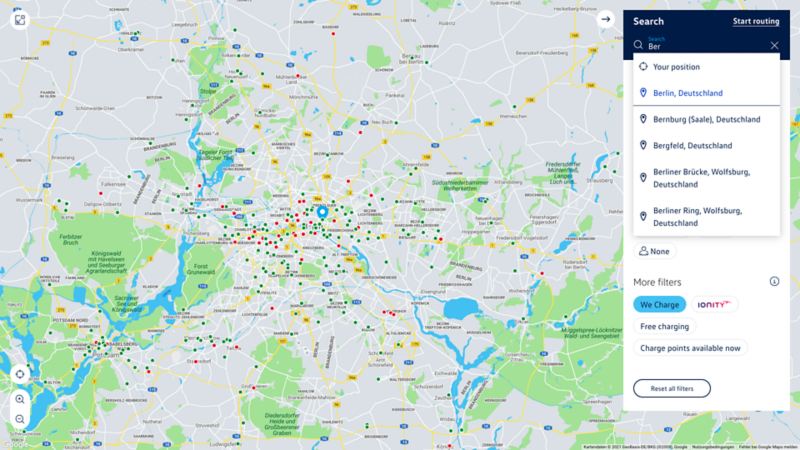 Enter your starting address and any via points and your route will be calculated straight away.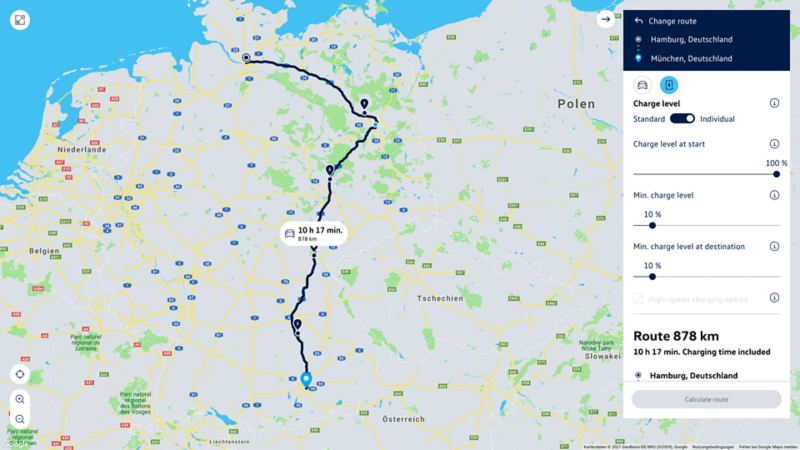 An ID. model is already selected by default. You can select the charge level at the starting point under "Charge level"  and the desired charge level at the destination.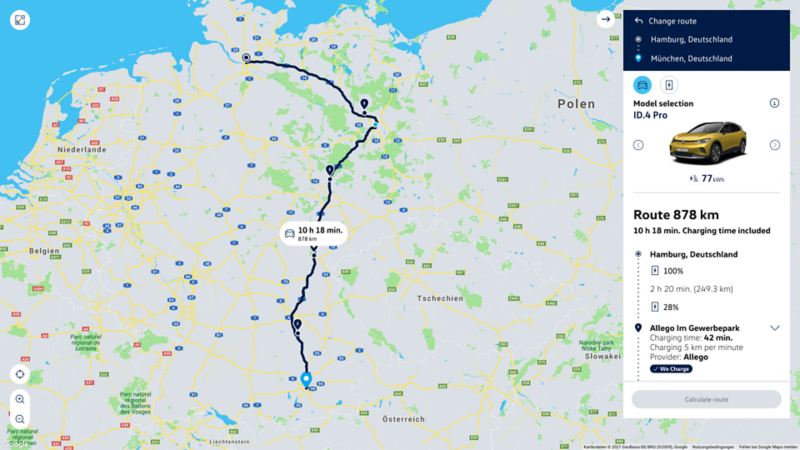 Based on your input, you will now be shown the best travel route including all charging stops, their duration and the respective charge level.
You can also use the route planner with full screen capability and switch between street map and satellite view. The latter option can help you to identify inaccessible charging stations, which are located behind fences on company properties for example.